AppScreen Management is a feature inside your account that allows you to send out an online form to your applicants, who will be able to enter in their information and give consent online!
You are able to access this feature through your Home screen, or under the "My Apps" tab

If you do not have an option for AppScreen Management, please contact support at 800-319-5580 or support@activescreening.com

The first page you see inside AppScreen Management is the Invitation Dashboard. This will be where your applicants appear after sending out an invitation to them!
Before being able to send out the Invitation, there is a set up process that will need to be done.
Invitation Configuration
The Invitation Configuration is where the type of background check that will be ordered will be set up.
Click on Invitation Configurations first

Then click on the New Invitation Config tab


You will get a page to create the new Invitation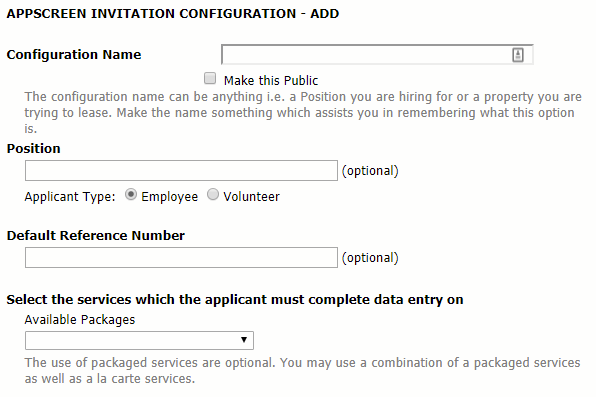 Configuration Name - The name of this Configuration. This name is not displayed to the applicants. This field is required
Position - The Position this background check would be for. This name is not displayed to the applicants. This name will be displayed in the Invitation Dashboard under the applicant's name. This field is optional
Default Reference Number - This will appear on your invoices as a label and will group up your applicants that are assigned to this Reference Number. This field is optional
Available Packages - The type of background check that will be ordered with this Invitation. You will be able to choose the background check package from the dropdown and any of the A La Carte services (individual services) below the dropdown.

Once application has been released by the applicant: - Choose what happens to the background check after the applicant completes the Invitation

Immediately order the report - Once the applicant is done with the online form, the background check will automatically be ordered
Leave Application in a review status - Once the applicant is done with the online form, the background check will not be ordered until you push it through. This gives you a chance to review information



Note: If you need to have a new type of background check ordered, you will need to create a new Invitation Configuration
Once you have your Email Template and Invitation Configuration set up, you will be able to send out the Invitation Link